Welcome Aboard
Each year, we mentor 1700 young people from all walks of life as they learn to sail a tall ship with SALTS! We provide "training, by the sea, for life!"
Click here to register for Summer 2016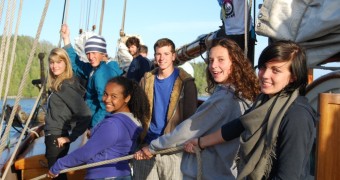 School or youth groups
participate in four or five-day voyages to the Gulf Islands each spring and fall. Individual young people join in
summer voyages
along the west coast of British Columbia. Past offshore voyages have traveled to the South Pacific, Far East, Australia, and Europe.
Our mission is to encourage the spiritual, relational, and physical development of young people through sail training, shipboard life, and associated activities in a Christian environment. We welcome young people (age 13-25) from all walks of life as participants in our programs.
People of all ages can participate in our two annual Day Sails - this year on June 11 and September 4. There are a limited number of "berths" available so be sure to register early! Online registration will begin on February 25th. See our
Day Sails
page for more information and registration link.